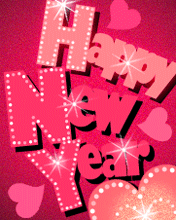 glitter-graphics.com
Well, I hope everyone's had a great couple of months worth of holidays. New Year's Eve tomorrow....I'm ready for the new year, I think.
We had great intentions of spending our Christmas holiday with just ourselves - a quiet dinner, a nice morning of opening gifts, maybe a movie (something different that we don't normally do). I had delustions, I tell ya!
But, we enjoyed seeing family and friends. As for myself, I received some very nice gifts this year.
This is a Chinese tea set from Hong Kong. My father is a professor over there at one of the universities. He knows how I love authentic things. I prepared this hot tea using real tea leaves (not in a bag). I was very pleasantly surprised at the taste! I'm going to learn how to conduct a Chinese tea ceremony and perform it with the girls.
A couple of other gifts: the Rachel Ray knife set - oh, what a joy to have truly sharp knives for once in my life!, a 2009 Paris calendar and my very own Eiffel Tower that now stands in my living room - it's about 3 ft tall. (I visited Paris about two years ago and, of course, fell in love with it!)
Ainsley had a special dinner with Nanny and her friend, Mr. Dean. Being the sweet man he is, Mr. Dean grew out his beard and so when he showed up to pick up his dates for the evening, he looked like Santa! Ainsley was thrilled!


And the other great thing - taking our granddaughter, Faith, with us to our family reunion in Jacksonville. We were exhausted when we got home though!
And now....I get to spend the rest of this week preparing for the 2nd half of our school year. Yippee!!!! Whooo hoooo!

I hope everyone has a great New Years. Next week, you can begin to follow my progress as I lose these extra pounds! Hey, we all need a little accountability, right?